Once the Bolshevik regime falls, world propaganda will cast the following slogan into the chaos all over Russia: 'Peoples of former Russia, disunite'. Then there will be two possibilities. Either inside Russia there will rise up a strong national leadership, which will take the reins of government into firm hands and do away with that pernicious slogan and lead Russia to unity, putting a stop to all the separatist movements around the country. Or else such leadership will not appear and there will begin an unimaginable chaos of movements, vengeance, looting, the collapse of transport systems, unemployment, hunger, cold and anarchy.
Ivan Ilyin, 1949 (1)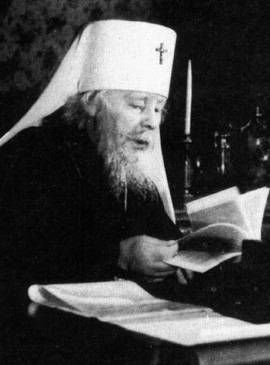 Metropolitan John (Snychev) of St Petersburg and Ladoga (1927-1995) was one of the most remarkable bishops of the Russian Orthodox Church inside Russia of the last half-century. His voice, ringing out at the end of the twentieth century, can be compared to the prophetic voice of another John of St Petersburg, St John of Kronstadt, which rang out at the beginning of the twentieth century. For he too warned of westernizing forces, about to take over Russia, and called the nation to repentance.
Born to a peasant family in the Chersonese on 27 October 1927, Vladyka John came to the faith only in 1943. Tonsured very young in 1946, he was ordained to the priesthood in 1948. In 1965 he was consecrated bishop and in 1976 he became archbishop. He also visited the Holy Land twice. Appointed Metropolitan of St Petersburg in 1990, it was he who through his many sermons and volumes of writings on patriotic themes led many out of post-Communist decadence and chaos into the light of Orthodoxy. He reposed on 2 November 1995.
With his simple, kind-hearted, Russian peasant face, he oriented Russians back to their historic Orthodox roots and fearlessly defended the memory of the Royal Martyrs. He spoke out tirelessly against the evil deeds of the godless Soviet regime in Russia, in which he saw only 'anti-Russian terror'. 'The Russian Orthodox Tsar was taken away from the earth and rivers of martyrs' blood ran red in Russia' (2). At the end of the twentieth-century Russian tragedy, amid the mafia rule of the 1990s and the futility of the western consumer society then being foisted onto Russia, he referred his people back to the Tradition. To the devilish imbecilities of the State, he opposed the Orthodox family, for totalitarian States always set about destroying family life. As it is said of him: 'He feared no-one and nothing, except God'.
Metropolitan John called his people back to the purity of Orthodoxy and national unity under the banner of the Church. He gave hope amid the decadence of late Soviet and then post-Soviet life, with its crime, alcoholism and general immorality. He saw through both Communism and the satanic myths of 'Western democracy', with its 'new world order', globalization and ecumenism. (That is why 'Orthodox' modernists, who then ruled the roost in London for example, refused to sell his books).
Metropolitan John quite understood what members of the Russian Orthodox Church Outside Russia had understood for decades: that western secularism is the path of Antichrist and that Soviet Communism was merely a local and passing form of that same western secularism. Whatever its name, Communism or Democracy ('Demonocracy'), he understood that all this was merely a persecution of Holy Russia. He understood that the whole past millennium of western history had been about the Unchurching of the West and it was this secular West had been brought to Russia. However, as he said, it was no good blaming others, those responsible for the catastrophe were themselves Russian. They had allowed this to be done to their country, they had done it to themselves.
A courageous Orthodox confessor and profound patriot, Vladyka's programme was no less than the Resurrection of Holy Russia. As a result, there have been those who have attempted to distort his message and twist it into chauvinistic xenophobia. This is wrong. It reminds us of the way in which some have tried to twist the deeply patriotic Orthodoxy faith and love of Holy Russia of the ever-memorable Archbishop Averky of Jordanville (+ 1976) into a kind of right-wing nationalist fanaticism. (What a pity the two never met!). In neither case was there nationalism or fanaticism, it was simply a love of Orthodoxy Incarnate, therefore of Holy Russia, and the readiness to fight to the death for that belief. For example, Metropolitan John wrote:
'Do we remember, do we know what it is to be Russian? Is it enough to have the corresponding indication in your passport or is something else required? In this sense, the concept of Russian is not just a racial characteristic. It includes anyone who recognizes that to take part in serving the Russian people has a divinely established aspect to it, anyone who identifies himself with the Russian people in the spirit, goal and meaning of their existence, regardless of their national origins' (3).
Here follow some testimonies about Vladyka John.
'Fr John is an elder. He has a great gift of discernment. Why do I revere him? Because I want him to embody what I have not managed to embody myself'.
Metropolitan Manuel (Lemeshevsky) (4)
Today has turned out sunny. It is exactly ten years since I saw Vladyka for the last time. It was on 2 November 1995. The weather was quite different then. In the morning it snowed. It was strange snow. Instead of melting, as it usually does in Petersburg, it lay there all winter. For me it was like nature's farewell to Vladyka and that was divine providence. It was a sad, cold, hard winter. Juts like the icy sorrow in our hearts, when that great pastor left us, the teacher of the city of St Peter and all Russia.
What can I say about Vladyka? He was a saint, that's all.
Many people met Vladyka just once or twice and they remember and cherish every minute of the time they spent with him. But I lived there, in the residence, with him, I was a trusted servant and he was like a father to me, he brought me up spiritually, instructed me and ordained me. Vladyka was my spiritual father. How many times I used to wake up in the morning and Vladyka was already standing at morning prayer, in the evening at evening prayer, doing his monastic rule. Or when, unexpectedly, you called on him in his cell and he was at prayer, it was as if you had been carried back into some ancient historic space, which we Christians imagine when we read the lives of the saints and see how the saints struggled in asceticism and faith. This was exactly what I saw with my own eyes and wondered at. On the one hand, Vladyka was a sickly elder, on the other, a steadfast soldier of Christ. And he was always at prayer. And he always seemed to be radiant.
I remember how he ordained me. At that time I was a deacon and Vladyka had gone into hospital with a heart problem. I went to see him and stayed overnight in the ward, watching up. We prayed together and then we both went to sleep. Suddenly, Vladyka got me up and said: 'You know, let's get you ordained and give you a parish somewhere'. I was astonished: 'What do you mean, Vladyka, I've only just been made a deacon'. 'But we need to do it. I've received instructions from above', he answered. I was so struck by those words that I humbly agreed. And Vladyka tonsured me. And this is what is really amazing. Although I had lived in the Pechora Monastery, we had never spoken to him about monasticism before and there were no plans for it any time soon. Everything changed in a single moment and it was impossible to say no. Soon afterwards, there was my ordination as hieromonk. I don't regret what happened.
This was not the only occasion that Vladyka made me do something so forcefully. And it was always positive. In day to day life Vladyka was very humble, but if it was something to do with the Church, faith or spiritual life, he could insist. He feared no-one and nothing, except God. I learned a great deal from him.
Fr Pachomius, Metropolitan John's cell-attendant (5)
I first saw Vladyka when I was just nineteen. At that time I was working at the Theological Academy. I was struck by how respectful Vladyka was to everyone, regardless of their age and education. I immediately felt that this bishop had a great love for people.
If you want me to speak about words of advice that Metropolitan John gave…well, with such spiritual people every word is salted with the spirit and every word falls into your heart…But I'd like to tell you about how Vladyka blessed me to become a nun. In truth, it was the Elder Nikolai Gurianov, but when Vladyka found out that my parents didn't agree with my choice, he supported me spiritually and gave me some useful advice. It was a parable. Here it is.
There was a young man who had decided to enter a monastery. So he goes along and meets an old man: 'Why do you want to enter a monastery, your parents are old! Go back, look after them in their old age, bury them and then become a monk'. That's what the young man did. He cared for his parents until they died and then he set off for the monastery again. On the way he met the same old man again. 'Where are you off to? You're still young, it's time you got married. Marriage is honourable and the marriage bed is chaste! Marriage is also a spiritual feat'. The young man obeyed the old man, got married, brought up children and then set out for the monastery again. This time he got to the monastery without further ado. In the monastery he was given an obedience – to chop wood. He went to a log, struck it once with his axe and off came splinters of gold. He struck it a second time and off came splinters of silver. He struck it a third time and off came pieces of rotting wood. And then he understood; these were his attempts to enter the monastery. Monasticism entered into young is gold. Monasticism in middle age is silver. Monasticism in old age does not give the soul much benefit. This is the parable that Vladyka told, as he sent me off to the Convent.
Three days before Vladyka reposed, I phoned him for some reason. He was already very weak. And the last words I heard from him were: 'Pray for me, I'm very ill!'
Vladyka blessed many nuns I know to enter the Convent. His dream was to see our Novodevichy Convent reborn, but by Divine providence he did not live to see this. But we always commemorate him in our Convent and we know that he too prays for us.
Abbess Sophia of the Novedevichi Convent (6)
I first heard Vladyka John's soft voice at a service in a church in Smolensk, I had a sinful thought: 'Couldn't they have found someone with a louder voice and someone more imposing for such a position?' But when I started reading his books, I began to understand why the Lord had sent him to us.
The happiness that we have in a country where there are such people of prayer like ever-memorable Vladyka, the elder Fr John Krestiankin and Fr John Mironov. Metropolitan John brought up worthy spiritual children like Fr Alexander Zacharov, whose books help me to find salvation, Fr Igor Filin, whom I'm grateful to for teaching me how to prepare for confession.
Somehow I managed to get to Vladyka's grave. I began to pray for my family. I thought, I don't pray properly for my family, husband, children and grandchildren. The main thing is if they all have faith, then they will themselves find the solutions to life's problems, they'll begin to understand God's will for us and I'll worry about them less.
The Servant of God Liudmila (7)
I was thirteen years old, when I first saw Vladyka. At the time he was Bishop of the Dioceses of Samara and Ulianovsk and he came to the patronal feast in our village of Oskino. The church was packed and he stood in the middle in his mitre and I couldn't stop looking at his face. The sun came streaming in though the window and it seemed as if Vladyka was standing in a pink cloud of light. I never exchanged a word with him, but I understood intuitively that he was the man I wanted to call my spiritual father. However, it was many years before my dream came true. We met when I went to the Convent in Piukhtitsa and Abbess Barbara sent me home to ask for permission to enter permanently. When I got to Samara, I went to see Vladyka.
What did I talk to him about then? I don't remember. I only remember that my soul felt warm as I talked to him. But the trouble was that I was so nervous that I forgot the main thing – to ask him to accept me as one of his spiritual children. When I got back to the Convent, I decided that I would write to him, like some of the other sisters.
I soon got an answer, signed 'He who prays for you'. I already knew that when he wrote to the others, he signed in a different way, meaning that he was their spiritual father. I wrote to him again and asked to be one of his spiritual children. He answered: 'I am not against, but everything will depend on how obedient you are'. It was a holiday in my heart!
The time for me to be tonsured as a full nun was approaching, I ran to phone Vladyka: 'Dear Vladyka, pray for me, I am being tonsured in two hours' time. I'm frightened'. He answered: 'Don't worry, everything will be all right'. I was still frightened that at the name change, they would give me a name I did not like, but I didn't speak to Vladyka about that. And suddenly I heard the words: 'The nun Joanna is tonsured'. They had given me the same name as Vladyka, which means 'the grace of God'.
It is a mistake to think that Vladyka was always placid. He knew how to teach us things! I can remember two cases. I went up to him, he had tea ready, but I still had to rush off somewhere else. I stood in the doorway and said: 'Dear Vladyka, I'm in a hurry, I've only got half an hour…'. He said nothing and continued the conversation I had interrupted. The subject of the conversation had long interested me and I decided to stay. But Vladyka reminded me: 'You've got to go now. The half-hour is up'. I began to insist: 'But Vladyka, I don't want to go now, what you are saying is so interesting'. But he was firm. 'No, you must go'. I went down the street, reproaching myself for being so stupid, after all Vladyka would have prayed, the others would have waited for me, everything would have worked out.
Another time there were three of us. One sister went up to Vladyka and said: 'Dear Vladyka, I need to speak to you for about twenty minutes. I must say that we were all waiting for him to get free, so we could speak to him. 'All right', said Vladya, 'let's go'. He gave her exactly twenty minutes, as she had asked. We did not manage to see him that day. But the next day, straight after the evening meal, Vladyka invited us to see him and said to Elizabeth: 'But not you, Mother, we spoke about everything yesterday'. Vladyka treated us to tea and our conversation went on until 11.00. Afterwards I said to Elizabeth: 'You should learn a lesson from this, be patient. Look, we were patient and the Lord sent us such a consolation'.
And how he tested me, when I went to him for the first time…He did not invite me to the meal, but only to the talk in the evening. I took this as being what I deserved and never thought to be offended by it. After the talk in the evening, he suddenly asked: 'So what temptations came to you today?' What temptations could I have had? The whole day had been as though I had wings, as I had waited for the meeting. And that was what I answered. 'Well, just think, just think', he insisted, 'do you remember?' 'Everything was fine, thanks to God', I answered, confused. Then he blessed me and said: 'Tomorrow I want you to be at the meal with me'. Only then did I understand that he had been testing me for pride, to see if I had been offended at not getting an invitation straightaway. Ever since then, whenever I went to Vladyka, whether on Convent business or for advice, he always asked me to eat at the refectory table with him.
Another thing - he always wanted to create in us the monastic spirit, he used to follow up things to make sure that we were not too attached to our parents. Once I went to him, hoping for a blessing to spend just a few more days with my mother. 'I've only got a week or two more to live', she used to say. She used to phone me up every day and cry, she would wait a whole year just to see me. Then I would say: 'Dear Vladyka, I've got to go home now'. And he said: 'It doesn't matter, you come back to the Convent straightaway'. He bought me a ticket and I went straight past my mother's to the Convent. Some might find that harsh. No, he did the right thing in cutting off all family ties, teaching us the monastic spirit. That was how he lived himself.
I am grateful to God that He in His mercy sent me such a pastor.
Nun Joanna (Smolkina) (8)
My obedience is to light lamps at the cemetery. They burn all day and night. We fill them with oil in the evening and they last until morning. I live not far away, I'm drawn there. People come to Vladyka John's grave all the time. They come from Samara, Vladimir, Moscow, Urengoi, Vorkuta, Magadan. His books have an enormous influence, they're what bring people here. Some people are even annoyed that there are no signposts to Vladyka's grave.
Not long ago some Cypriots came. I asked a monk: 'How do you know Vladyka?' He answered in broken Russian: 'A pillar. Up to heaven'. That says everything. Metropolitan John's writings have been translated into various languages. Some Romanians came on the eve of Vladyka's feast, there was the Abbess of a convent, she sang over the grave in Romanian. She said: 'We have a society of John Snychev'. Vladyka's brought so many people together. Sometimes priests come in civilian clothes, they're passing by or it's after a service, but no-one fails to do a memorial service. Not long ago there was a former officer, he cried and said: 'Vladyka completely changed my life'.
There was a woman from Pavlovsk whose husband had been in the Botkin hospital for six months. He did not get any better, but he did not die. She would come here every week to get a little earth from the grave, she prayed and wept. Then, one day, she appeared, full of joy. 'They've let him out', she said. Her husband was alive and in good health. Healings happen here.
I have myself had several proofs of Vladyka's real help and I understand that we have to light candles and lamps on his grave. Despite all our misfortunes, on Vladyka's anniversaries, it is like a holiday in our hearts. He is a man of prayer, our intercessor before God. I have no doubt that with time, when it pleases the Lord, he will be glorified with the saints.
The Servant of God Anna (9)
Notes:
1 A Lament For Great Russia, p. 173 of The Good Shepherd, A Wreath on the Grave of Metropolitan John, Tsarskoie Delo, St Petersburg, 1996
2 Ibid., Still Now My Speech Is Bitter, p.183
3 Ibid., p.17
4 From the diaries of Metropolitan Manuel (Lemeshevsky), The Vineyard of God
5 Orthodox St Petersburg No 10 (165), October 2005
6 Orthodox St Petersburg No 10 (165), October 2005
7 Orthodox St Petersburg No 10 (114), October 2001
8 Orthodox St Petersburg No 10 (153), October 2004
9 Orthodox St Petersburg No 10 (114), October 2001