The Only Western European Country
to have had an Orthodox King in the Twentieth Century.

One of the smallest countries in Europe, situated between Spain and France, Andorra has a population of just over 70,000, the native language being Catalan.
Christianity, that is Orthodoxy, no doubt arrived in what is now Andorra in the early centuries, when it was part of the Roman Empire. After the fall of Rome, the territory eventually came under the control of the West Goths, who pursued its Christianization. After valiantly resisting both Muslims from the south and Vikings from the sea, in the ninth century Andorra came under influence from France. To this day, there are churches which remain from that time, when Andorrans were still one with the Orthodox Church. For example, the oldest church in Andorra, that of Santa Coloma (St Columba), the virgin-martyr, dates from the ninth century.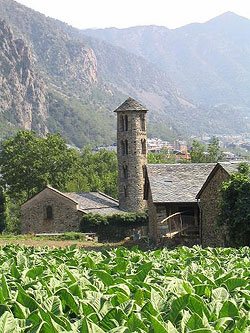 Santa Coloma, a ninth-century church in Andorra
During the Middle Ages the King of Aragon, Peter III, granted control of Andorra to the Catalan Bishop of Urgel and the French Count of Foix, who were considered to be joint Princes of Andorra. Today, Andorra is a democratic state, though its 'Princes' remain nominal heads of state and maintain some Constitutional rights.
At the present time there are no Orthodox churches in Andorra, despite the presence of several Orthodox, including one whom I baptized fifteen years ago, when I was parish priest in Portugal. However, there are some other fainter connections with Orthodoxy. The first, curiously enough, dates back to 1934 when, for the first time in its history, Andorra had a king, strangely enough a White Russian emigre called Boris Skosyrev (1896–1989). His reign lasted only a few days in July 1934 and was ended by Spanish guards and French policemen. However, he did bring in a certain liberalization of the country, a measure of freedom from the medieval Roman Catholic feudalism that still prevailed in Andorra at that time.
The only traces of this Ruritanian episode may be a certain interest in Andorra for Russian culture. Thus, in the town of Eskaldes there is a museum devoted to Russian nesting dolls, with over 200 exhibits, but above all there is a museum of icons in the town of Ordino. St George's Museum (Museu Sant Jordi) houses some 100 Russian, Greek and Bulgarian icons dating from the 16th to 19th centuries, as well as a library with video documents and photographs.
It is to be hoped that such slender traces of Orthodoxy may one day be strengthened by the presence in Andorra of a small Orthodox church, however modest, and some Orthodox Andorrans.